Photo Gallery
Rustom Faramna Agiary, Dadar, Mumbai - India
Cama Baug (Big Otla), Khetwadi Main Road, Mumbai - India
Wadiaji's Atash Behram Agiari, Marine Lines, Mumbai - India
Parsi Fire Temple Guardian
Fire Temple in Ahmadabad
8 months ago:
An Indian Zoroastrian, or Parsi, Priest gestures as he explains the significance of the Asho Farohar (Angels) to a young girl at a Parsi Fire Temple in Ahmedabad, 20 August 2007, on the occasion of Navroz or Parsi New Year. Parsis are Zoroastrians who arrived in India 1200 years ago from Persia, fleeing persecution at the hands of Arab conquerors invading Persia. Despite their meagre numbers, the Parsi community has played a large role in the development of the country
Old Zoroastrian Fire Temple in Iran
Zoroastrian fire temple - Yazd
Door to the Spring Sanctuary of Ahura Mazda,
Zoroastrian Fire Temple of Chak Chak, Iran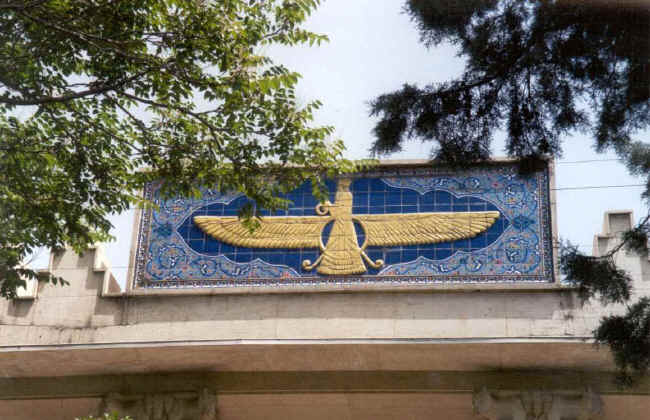 A mosaic symbol of the Zoroastrian faith atop a fire temple in Shiraz, Iran




Parsee place of worship at Bhikha Behram Well, Mumbai




Bhika Behram Well is a freshwater well dug in 1725 by a Parsi named Bhikaji who had come from

Bharuch

to

Mumbai

. The well is situated at

Churchgate

in

Greater Mumbai District

, at one end of Cross Maidan, near the Central Telegraph Office. The well and its stone canopy are decorated with stained glass. Parsis treat the well and its surroundings as sacred because it contains fresh water even though it is close to the sea. Parsis pray here with their foreheads pressed against the stone rim. It is said that if anyone lit a lamp near the well, all his wishes would be fulfilled.
ZarthustSaheb Darbar
Zarthustra
Holy Fire
** Atash Beharam of Udvada **
Started By
Thread Subject
Replies
Last Post
Anonymous
Nice Pictures
1

Nov 23 2008, 1:31 AM EST

by Firdosh

Thread started: Jul 27 2008, 1:29 AM EDT Watch

These are nice Pictures. Specially the one of Zarthustsaheb Darbar.

8

out of

8

found this valuable. Do you?
Showing 1 of 1 threads for this page